Kenyans love their maize and wheat products. Each protein meal is accompanied by ugali or chapati. But therein lies the problem. Due to a number of factors, the two staples cannot meet current demand. This is why it is necessary to switch to alternatives like the good old cassava. And a number of farmers have seen the opportunity and are taking advantage of it.
On a hot afternoon in Akites village, Teso South ward in Busia County, the Smart Harvest team meets Jennifer Kola at her six-acre cassava farm.
Kola says she never imagined that a crop like cassava, which was grown for home consumption, could change her economic fortunes. It's been a struggle to grow the crop, but now things are looking up.
"For years, we only planted indigenous varieties of cassava (Manganam and Nigeria, among others) that were eaten at home, but they were prone to attack from pests and diseases. Often, we didn't have quality seeds to plant and we exchanged cuttings, which made the situation worse," she adds.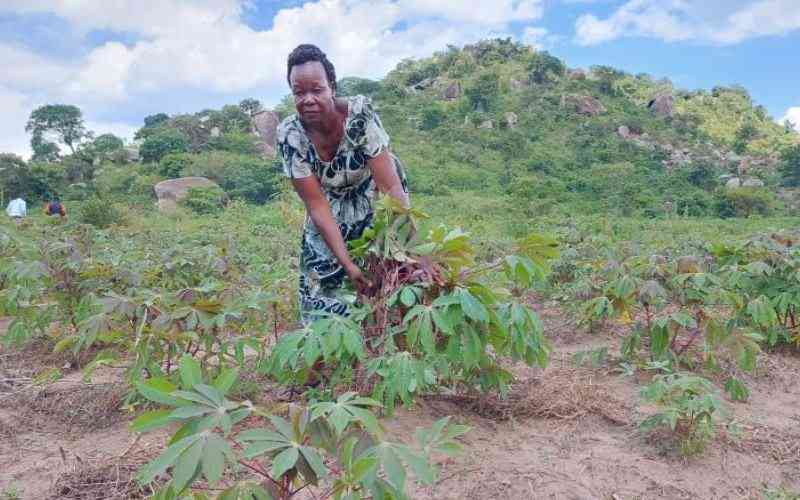 This meant that their yields were always low and the crop was prone to attack. But that's no longer the case thanks to an initiative that promotes cassava as a healthy alternative to maize.
Kola says that since 2016 she has been planting improved varieties of cassava thanks to Self Help Africa (SHA), a farmer-serving NGO, which gave her the first batch of cassava seeds.
Paying bills
"My cassava project has improved considerably and now I can pay my bills. The agricultural extension workers saw the challenges we were facing and came to our rescue. They gave us quality seeds and trained us in good cassava management practices," she says.
Kola started with two acres of cassava and now she has six acres of land under cultivation and harvests 80 to 100 bags of cassava seeds to sell. She sells a bag of cassava seeds containing 1,000 cassava cuttings 30 centimeters long for 500 shillings to other group members and 1,000 shillings to non-group members.
Kola says she can earn between Sh100,000 and Sh120,000 from the sale of cassava tubers, as they mature in 18 months.
With this money, she can lead a decent life, support herself and her family. Senior SHA Program Manager Peter Okoth says they decided to promote the crop because of its potential to improve farmers' lives and improve food security.
"SHA educates all actors in the cassava value chain, especially farmers, on how cassava can transform their lives. Cassava can be consumed at home by families and if there is a surplus, it can be marketed. It is a healthy, rich and nutritious food," says Okoth.
Health Benefits
A cassava tuber is particularly rich in vitamin C, an important micronutrient that acts as an antioxidant, supports collagen production and boosts immunity. With the challenge of climate change, cassava farmers like Kola have not escaped its effects. Due to changing rain patterns, it sometimes suffers crop losses.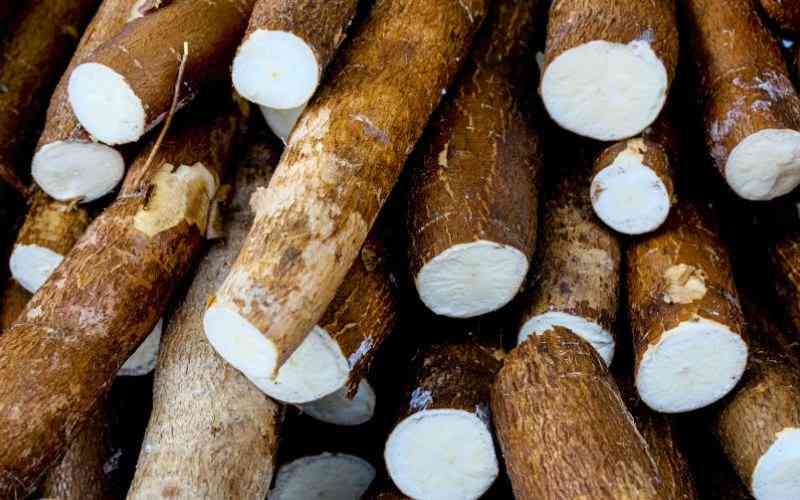 Although the challenge of pests and diseases is still real, Kola says that thanks to SHA training, she now knows how to deal with it.
"In the past, I didn't know that I had to uproot the affected cassava plant in order to prevent the disease from spreading, now I can save my farm from this disease," she says.
Isabella Imemwa, crop health specialist at the Kenya Agriculture and Livestock Research Organization (Kalro) in Kakamega, explains that Kisumu, Busia, Siaya, Homa Bay and Migori counties are known areas for growing cassava in the 1980s. But in the late 1990s, cassava mosaic disease forced farmers to abandon the crop for growing maize.
Disease attacks
Imemwa says that for years now, cassava farmers have been planting seeds that are low yielding and susceptible to pests and diseases.
Since the planting material is the stem, cassava growers exchanged cuttings of indigenous varieties, hence the availability of clean seeds was a major problem. But to ensure farmers get good yields, Kalro and other organizations like SHA have stepped in to change this trend.
"We have started supplying farmers with clean, certified cassava seeds. We now have improved cassava seeds that are high yielding, early maturing, drought resistant, pest and disease resistant," says Imemwa.
With the challenges facing maize and wheat production, Imemwa says farmers should embrace cassava as a healthy alternative.
For those interested in growing cassava on a commercial basis, Kola urges them to plant the MM96/7151 variety which grows taller than many cuttings, has a high yield and matures early with large tubers.
Samson Khachina, director of agriculture for Busia County, says cassava, which is the third most widely grown crop in the region after maize and sorghum, has immense potential.
"Our county is the leader in the production of this crop. 90 percent of the cassava produced in this county is of improved varieties. Slowly we are seeing an increase in demand for cassava seed in cassava growing areas like Kisumu, Kilifi, Siaya, Homa Bay and Migori counties. We have over 50,000 acres of cassava with a production of 18,000 tons of cassava tubers per acre," Kachina explains.
Given the strong obsession with maize and wheat, it was a bit difficult to convince people to switch to cassava, but gradually change is happening.
According to the SHA, consumption awareness has increased from 12% in 2010-2012 to 35% since 2017 and this is expected to increase in the future with new government regulations on flour mixes.
The government, through the Roots and Tubers Strategic Plan, has put in place a framework to stimulate and promote root crops such as cassava.
"In promoting cassava blending, we have seen some companies blending cassava with other crops up to 0.4%, although we are pushing this to 10%. With the strategic plan, we will have regulations that will see millers blend their flour with 10% tubers. We work with 28,000 farmers across the country with an average farm of one acre and above, producing 15-20 metric tons per acre in the coastal region and 10-15 metric tons per acre of fresh cassava tubers in the western region says Okoth.
Want to get the latest farming tips and videos?
Join us
Share this article on social networks