Agriculture Minister Frank Tumwebaze commissioned the Egyptian-Ugandan ultra-communal model farm to start producing meat for export.
The modern farm, also known as NEC Farm Katonga, located in Kisozi in Gomba district, boasts 9m² of land and was developed by the National Enterprise Corporation (NEC) to promote meat production for export to Africa, Europe and the Middle East.
It is managed under the Meat Export Support Service Project, jointly managed by the Ministry of Agriculture and Land Development of the Arab Republic of Egypt and NEC, the commercial arm of the Department of Defense.
The Minister visited the Egypt-Uganda bull fattening farm, where it was reported that the bulls add 1.35 kg of weight each day. At the farm, the minister was received by the Egyptian deputy head of mission, Mohanad Mozari and Mohamed Nazeeh Kilany, counselor at the Egyptian embassy and other officials.
The Egypt-Uganda model farm
The Minister also visited the NEC Farm Katonga, which has around 700 animals of different genetic qualities of Boran and Brahman breeds. The farm operates two farms under the Kisozi Meat Export Support Service Project in Gomba and the National Leadership Institute in Kyankwanzi District. Both farms are being developed to create adequate meat export. On both farms, the army raises a mother herd managed in the open and a fattening section of bulls in the "feedlot".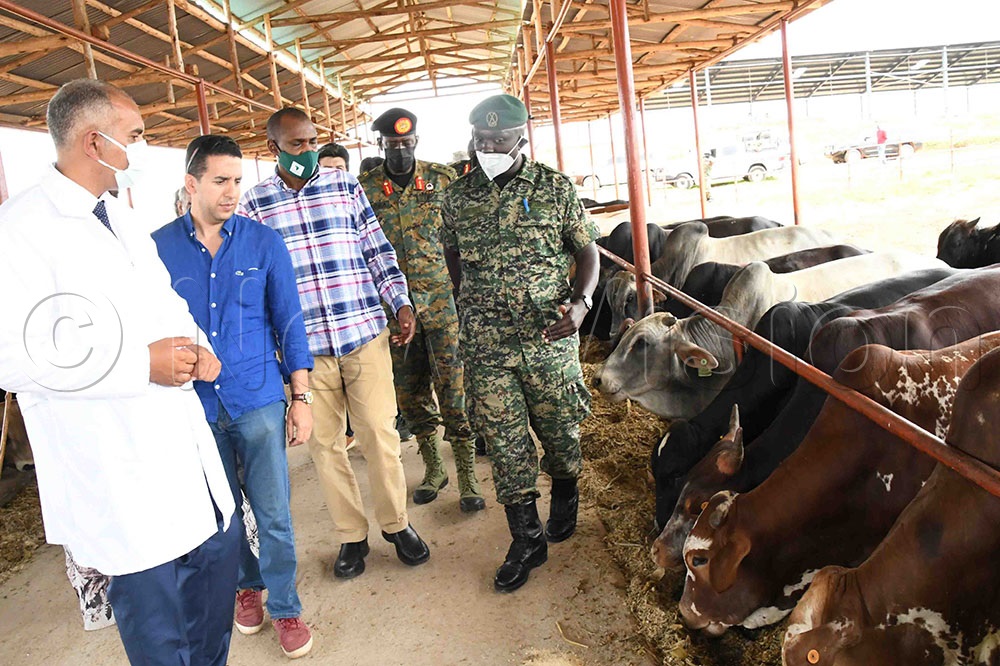 Agriculture Minister Frank Tumwebaze with other officials from the Egyptian-Ugandan Model Farm
The minister thanked the Egyptian government for appreciating the partnership with Uganda and for choosing beef, one of the most delicate value chains and said the ministry was a partner in the project and had many obligations. to ensure its success. He said the ministry had a strategy of supporting lead farmers as one of the ways to support surrounding farmers or small producers. "We want to invest money in the Katonga farm because we want to make sure that the surrounding communities use it as an anchor factor to enable them," he explained, adding that the ministry would go from there. before to support actors in the agricultural sector.
Permanent Secretary, Major General Kasura Kyomukama, Director General of NEC, Major General James Mugira, MP for Gomba West Robinah Rwakoojo and District Heads of Gomba and Ssembabule and other officials attended the ceremony .