Wall Street Journal editors Isabel Coles and Jared Malsin reported on Saturday that "Grain exports from southern Ukrainian ports exceeded one million metric tons under a United Nations-brokered deal with Russia that held for almost a month even as hostilities rage elsewhere in the country.
"Ukraine was, is and will be among the guarantors of world food security," Ukrainian President Volodymyr Zelensky said in a speech on Friday evening, hailing the milestone of one million tonnes.
Reuters News reported late last week that "In an evening speech [Friday]said Zelensky 44 ships had been sent to 15 nations. Another 70 ship loading requests had been received, he added, reiterating that Kyiv's target was to export three million tons per month."
Thanks to the partners 🇬🇧 for the underwater drones to clear the Black Sea coast. These are the areas through which the Ukrainian grain export corridor passes. A safe sea route will increase trade and thus avoid global food shortages and inflation pic.twitter.com/YwR6ViubuF

— Oleksandr Kubrakov (@OlKubrakov) August 27, 2022
Meanwhile, Reuters writer Pavel Polityuk reported today that "Ukraine's grain exports are down 52.6% year on year to 3.6 million tonnes in the 2022/23 season so far, the Ministry of Agriculture announced on Monday.
Polityuk added that "the government has said that Ukraine could harvest at least 50 million tons of grain this yearcompared to a record 86 million tonnes in 2021due to loss of land to Russian forces and declining grain yields.
Also today, Reuters writer Naveen Thukral reported that "2022 Ukrainian wheat harvest 98% complete to 18.8 million tonnes, according to data from the country's agriculture ministry.
The Reuters article also pointed out that "advisory service Pro Farmer has projected a US corn harvest of 13,759 billion bushels, which would be the smallest since 2019 and below government forecast for 14,359 billion bushels.
"Pro Farmer predicted a soybean crop of 4,535 billion bushels, slightly bigger than the US Department of Agriculture forecast for a record 4.531 billion bushels.
"Lower U.S. corn production outlook adds to concerns more contraction world cereal production, including wheat and rice.
Reuters writer Tom Polansek reported on Friday that "European crops have also struggled with the drought. french corn crop conditions declined last week to their lowest rating in over 10 yearsdata from the agricultural office FranceAgriMer showed, suggesting that recent rains have brought limited advantage fields damaged by heat waves and drought.
And yesterday, Bloomberg writers Kim Chipman and Tarso Veloso Ribeiro reported that "Meanwhile, drought is wreaking havoc in Europe, China and Indiawhile the export prospects of Ukraine, a major shipper of corn and vegetable oils, are difficult to predict in the midst of the Russian invasion.
"'Even before this week's news from crop tourI was afraid that we would have doesn't see much stock rebuilding until 2023said Joe Glauber, a former chief economist at the US Department of Agriculture who is now a senior fellow at the International Food Policy Research Institute in Washington. "The opening of Ukrainian ports is a welcome signbut the volumes remain well below normal levels.'"
Elsewhere, Bloomberg writers Samuel Gebre and Elizabeth Elkin reported last week that "The shortage of fertilizers in Europe deepened with more than two-thirds of production capacity halted by soaring gas prices, threatening farmers and consumers far beyond the borders of the region.
"Russian pressure on gas shipments following Moscow's invasion of Ukraine is hurting industries across Europe. But fertilizer companies are particularly affected because the gas is both an essential raw material and a source of energy for the sector.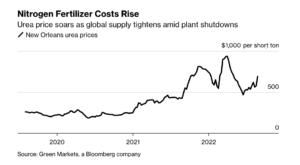 "Fertilizer Wholesale Priceswhich retreated after hitting multi-year highs following the onslaught of Russia, rise again while producers in the European Union limit their capacities. Ammonia prices in Western Europe have risen over the past two years, according to data from Bloomberg's crop nutrient analysis firm Green Markets. Dwindling supplies will keep prices high, threatening productivity as farmers are forced to reduce their use of the key nutrient. This will in turn hit consumers as food inflation accelerates," the Bloomberg article said.
Regarding rice exports and India, Bloomberg writers Pratik Parija and Bibhudatta Pradhan reported today that "India's potential crackdown on broken rice exports shows the world's first shipper trying to thread the needle of cooling domestic inflation without causing global panic.
Bloomberg editors explained that "with the potential trade restrictions on broken rice, only about a fifth of India's rice exports will be affected. This type of rice is fragmented during processing. The best buyers are Chinawho uses the grain for animal feedand some poor African countries that import grain for food because it tends to be cheaper.
In US food price news, Kristina Peterson reported in today's Wall Street Journal that, "Even as gasoline prices begin to fall, food prices continued to rise. Grocery prices rose 13.1% in July from a year earlier, the fastest annual pace since 1979, according to the Labor Department.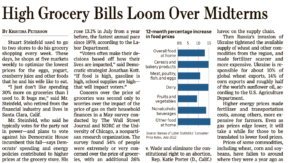 And Abha Bhattarai reported in Sunday's Washington Post that "inflation has been at or near 40-year highs since the spring, but families have been pinched by higher food prices during two years. Meat prices in particular have jumped 17% since July 2020inspiring families across the country to change their shopping habits and eating habits.
"Over 70% of Americans have adjusted the way they buy meat due to inflationaccording to Glynn Tonsor, a professor of agricultural economics at Kansas State University who oversees the school's Meat Demand Monitor, which surveys 2,000 people nationwide about their meat consumption and buying habits.
"Many are buy less meat or opt for cheaper cuts — ham instead of pork chops, for example, says Tonsor.