By donating $1.6 million to Roger Williams University for shellfish farming, Senators Jack Reed and Sheldon Whitehouse are partnering with the university to develop smart strategies and direct support to make shellfish farms stronger and more productive and help new shellfish farming businesses get started in Rhode Island.
Rhode Island is home to more than 80 oyster farms, or one in six oyster farms on the East Coast. In the Fiscal Year 2022 Appropriation Act, Senators Reed and Whitehouse secured a $1.6 million allocation to RWU to provide support to Rhode Island shellfish aquaculturists through research, resources and legal services in aquaculture.
Aquaculture is an increasingly important source of safe, nutritious and sustainable seafood for people around the world. Globally, aquaculture production must double by 2030 to keep pace with demand. These increases in demand for aquaculture products, food security considerations and job creation have generated an increased need for skilled workers.
Find out how you can be part of this growing industry.
RWU's leadership in shellfish farming and marine finfish aquaculture has made it a go-to resource for both established and aspiring shellfish farmers, who take oyster farming courses and consult with university experts on growing operations, bivalve diseases, legal issues on location, business start-up and expansion.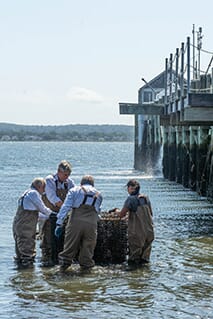 On August 8, Senators Reed and Whitehouse joined RWU President Ioannis Miaoulis for a "wet tour" of the university's oyster farm in Mount Hope Bay and a "dry tour" of the fish hatchery. oysters and the university's aquaculture laboratory.
"For more than 20 years, Roger Williams has led the leading science program in marine aquaculture. We are proud to write the next chapter of our leadership work in Rhode Island's growing shellfish aquaculture industry," said Miaoulis. "With the right planning and partnership with Senators Reed and Whitehouse and the shellfish farmers of Rhode Island, Roger Williams University will serve as blue innovation leaders who are designing a progressive and sustainable coastal strategy that will serve as a premier model for other regions replicate throughout the country.
Senators Reed and Whitehouse want Rhode Island to have the right strategy and resources to sustainably grow the state's aquaculture sector and address an array of production challenges while ensuring the health and safety of fresh seafood. and premises.
"Shellfish farming is becoming an integral part of the biodiversity, environmental stewardship, food security and economy of our coastal ecosystem. Each year, the shellfish community continues to grow, employing hundreds of Rhode Islanders and bringing in millions of dollars in sales," said Senator Reed. "We want it to develop responsibly and sustainably. We salute the team here at Roger Williams University. CEED provides students and community members with world-class training in oyster management – it's like Oyster Farming 101. From critical research that ensures both human and coastal health to providing a From practical support for starting a new business to technical commentary on what oyster farmers need to be successful, Roger Williams has become a go-to resource for Rhode Islanders.
"Aquaculture is one of the pillars of Rhode Island's blue economy, so it's only fitting that Roger Williams University has become a one-stop-shop for current and future aquaculturists," said Senator Whitehouse. "Senator Reed and I were pleased to provide federal funding to support the University's programs to sustainably grow industry, create jobs, and ensure the Ocean State continues to produce the best oysters in the world."
Shellfish farming with Senators Reed and Whitehouse
In addition to supporting RWU's continued advancements in the science of shellfish farming through its Center for Economic and Environmental Development (CEED) and sharing knowledge about Rhode Island-specific ecosystems and issues with shellfish farmers and the public, the funding will expand its aquaculture operations to raise and distribute four million oyster seeds annually to Rhode Island oyster farmers in a dedicated upweller system on its waterfront learning platform. 'water. These specialized tanks are a critical step in successfully growing oysters early in their life, and Roger Williams will make this important part of the growing process more accessible to local farmers.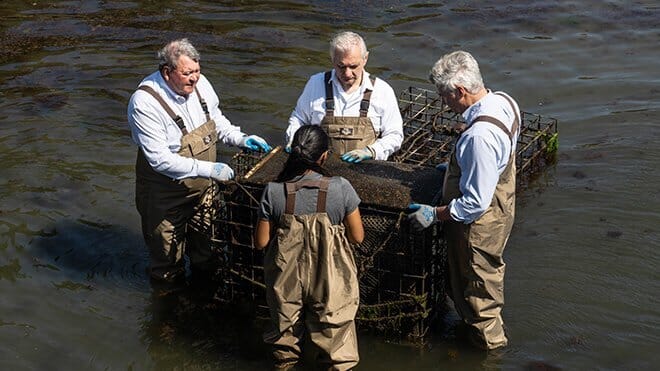 Part of the funding will be used to purchase equipment to establish a histology laboratory to support the development of coastal resilience through testing for shellfish diseases and pollutants, and to purchase new analytical equipment for a chemistry laboratory that will play a central role in education, research and training to assess and promote the health of aquatic ecosystems. It will also support the Marine Affairs Institute at RWU Law School, home of the Rhode Island Sea Grant Legal Program, to provide legal services and policy resources to communities interested in shellfish farming.
Roger Williams University is unique in being able to provide both the aquaculture knowledge and legal expertise needed to develop a thriving oyster industry. While the university's mission is to conduct cutting-edge research that provides new knowledge, techniques and resources – and to bring that knowledge to the world, it is also about actively engaging undergraduate students and law students in research at every stage to ensure that the next generations of scientists, legal experts and entrepreneurs have the experience and skills necessary to continue advancing the blue economy in Rhode Island and throughout the whole world.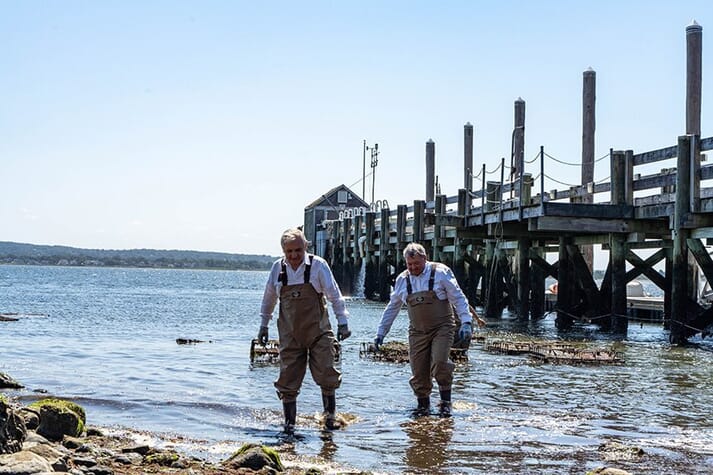 "Partnerships are at the heart of our work at Roger Williams," Miaoulis said. "And this collaboration with Senators Reed and Whitehouse is a great example of an integrated partnership between higher education, government and industry that leverages our local talents, knowledge and resources to build a stronger Rhode Island."