By Bruce Bartlett
As we sequestered at the onset of the COVID pandemic in the spring of 2020, students had to abandon farmland at Terra Nova High School, the Beaverton School District (BSD) agricultural teaching school located at Bonny Slope in Thompson and McDaniel (in the old school Bonny Slope). Students, teachers and local farmer/county commissioner Greg Malinowski had worked over the years to create three acres of fertile soil from a tough playground.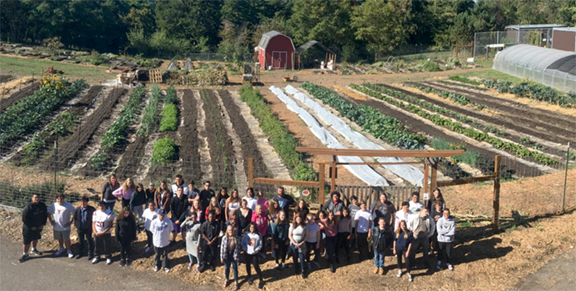 Following the break, the fields turned into a thorny jungle as Canadian thistles grew taller and taller. Unable to witness this kind of deterioration of the garden, I met the principal, Michael Crandall, and the teacher/farmer Joel Whitmore, who were struggling to stay ahead of the weeds, and offered me to help with a handful of other volunteers.
The high thickets of thistles and weeds were repeatedly mowed. Finally, it was time to turn to cultivation. John Russell of Bonny Slope Blueberry Farm lent us his mighty little tractor and I started tilling the soil. The 50-pound sacks of coffee used to mulch the aisles had rotted away, but not the tough (damn) nylon cords they were sewn with. I had to stop 50 times while plowing to cut the strings of the tines of the cutter, but in the spring of 2022 the ground was prepared for the return of the students.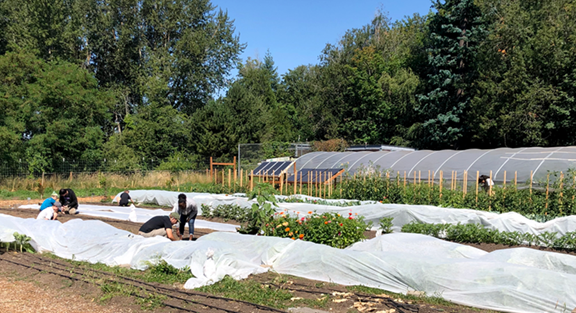 Terra Nova has two farming areas: flower beds for each student to grow the plants they study in class, and separate flower beds for vegetable production. Originally intended to grow produce for sale at the Cedar Mill Farmers Market, their production beds now send bins of vegetables to local pantries. Crops are rotated and beds replanted several times during the growing season. In the summer, interns are hired to handle farm chores alongside the instructors (and enthusiastic volunteers.)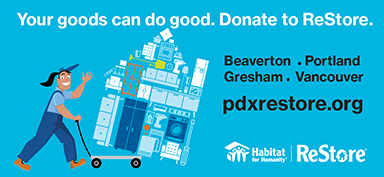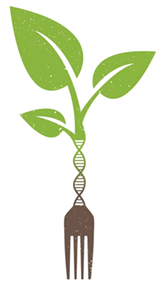 Students can enroll in the Field Biology/Sustainable Food or Applied Chemistry/Sustainable Food courses offered at Terra Nova. These project-based courses are taught at the school which provides a working farm, carpentry shop and industrial scale kitchen. Membership in the program is free and boots, gloves and tools are provided. An annual plant sale subsidizes some of the program's expenses.
Terra Nova is open to any student attending a BSD comprehensive high school (Aloha, Beaverton, Mountainside, Southridge, Sunset, or Westview). Buses transport students to school. If more students apply to the program than there is space available, a random lottery system is used to select students.
Field Biology is a rigorous course that covers the fundamentals of modern life through the lens of sustainable agriculture. Students work outdoors on the farm and indoors in the classroom to learn field biology techniques. Course content includes all BSD biology standards: biochemistry, cellular processes, genetics, evolution, sustainability, and ecology.
Applied Chemistry is available for Physics students in the STEM (Science, Technology, Engineering, and Mathematics) program and includes all BSD Chemistry Standards: Intermolecular Forces, Structure and Properties of Water, Kinetic Molecular Theory, Equilibrium, and Climate Change .
Launched in 2010, Terra Nova grew out of the spirit of two programs previously offered by the Northwest Regional Education Service District, the Cascade Education Corps and the Outdoor Leadership Program. These outdoor environmental education programs have given students valuable training and hands-on experience in leadership, teaching, and environmental issues. This real-world learning provides the opportunity to develop personal, team-building, and problem-solving skills for students who thrive best outside of a big school.
BSD had to shut down the program in 2012 due to budget cuts, but it was restarted in 2014 and has been active ever since. Today's students are motivated and ready to work outdoors during parts of the course. They plant, grow and harvest fruits and vegetables in their own flower beds to learn by doing how chemistry and biology concepts are integral to all the food we eat every day. Critical thinking, research, communication, and analysis are emphasized, and technological, historical, political, and environmental aspects of chemistry and sustainability are addressed.
A collection of fun video testimonials are provided on the Terra Nova Facebook page.
I find it hard to understand the motivation but in April 2022 Terra Nova was robbed. Their brand new BCS walk-behind cultivator, agricultural implements and hand tools, and their greenhouse's solar panels and storage batteries were stolen over a weekend. They were lucky that insurance reimbursements and a slight budget surplus paid for the equipment replacement, but several urgent cultivation tasks were delayed, so I did another round of plowing which kept fields and student beds ready for spring planting. This spring, 120 students attended Terra Nova, and the satisfaction I derived from volunteering to help achieve this goal is priceless to me.
Readers are encouraged to make donations to the school. Necessary items are listed on their website and can be dropped off at the farm during school hours.